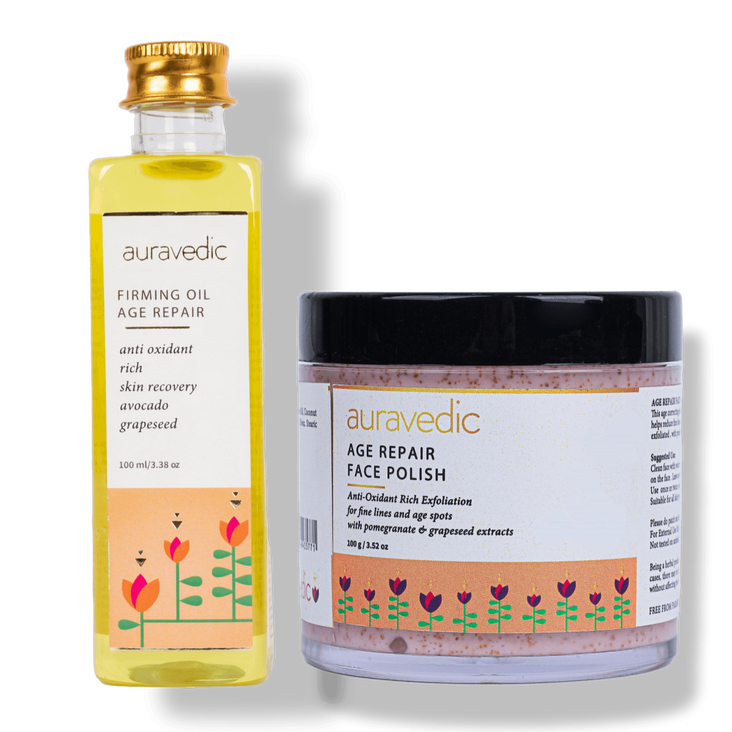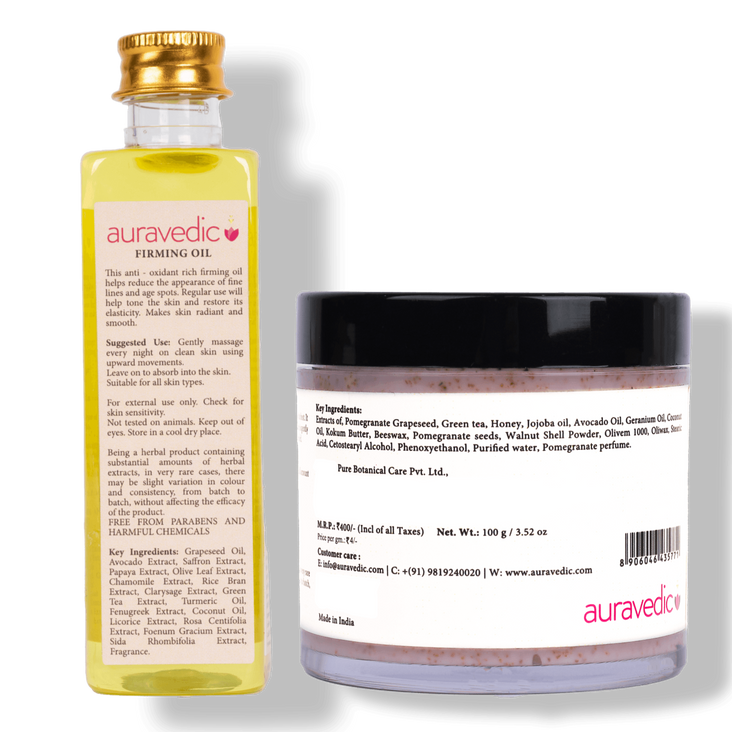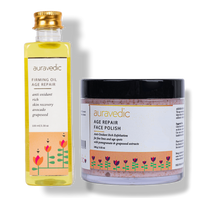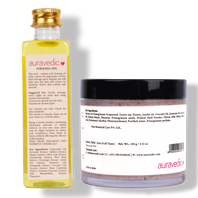 Anti Aging Care
Anti Aging Skincare, Reduce Fine Lines, Hyperpigmentation, and Wrinkles
Due to environmental conditions and stress, our skin easily loses its natural elasticity and dehydrates. As a consequence, the skin becomes dry, and pale as well as shows early signs of ageing.

However, with proper care and necessary attention, ageing can be delayed. Using Firming Oil age repair and age repair face polish, you can easily carry Anti-aging care. The regular application of both products can reduce fine lines, hyperpigmentation, and wrinkles. With the goodness of Avocado, Grapeseed, Pomegranate, green tea, and Clarysage extracts, these products naturally combat all the factors affecting skin health and age.

Within the first couple of weeks, you can see the visible radiance, firmness, and even skin tone with the use of Face Oil. At the same time, Face Polish will remove dead skin cells and reveal fresh skin.


Firming Age Repair Oil -
Grapeseed Oil, Avocado Extract, Saron Extract, Papaya Extract, Olive Leaf Extract, Chamomile Extract, Rice Bran Extract, Clarysage Extract, Green Tea Extract, Turmeric Oil, Fenugreek Extract, Coconut Oil, Licorice Extract, Rosa Centifolia Extract, Foenum Gracium Extract, Sida Rhombifolia Extract, Fragrance

Age Repair Face Polish - Extracts of pomegranate grapeseed,Green tea, Honey, Jojoba oil, Avocado oil, Geranium oil, Coconut oil, Kokum butter, Beeswar, Pomegranate seeds, Walnut shell powder, Olivem 1000, Oliwax, Stearic acid, Cetostearyl alcohol, Phenoxyethanol, Purified water, Pomegranate perfume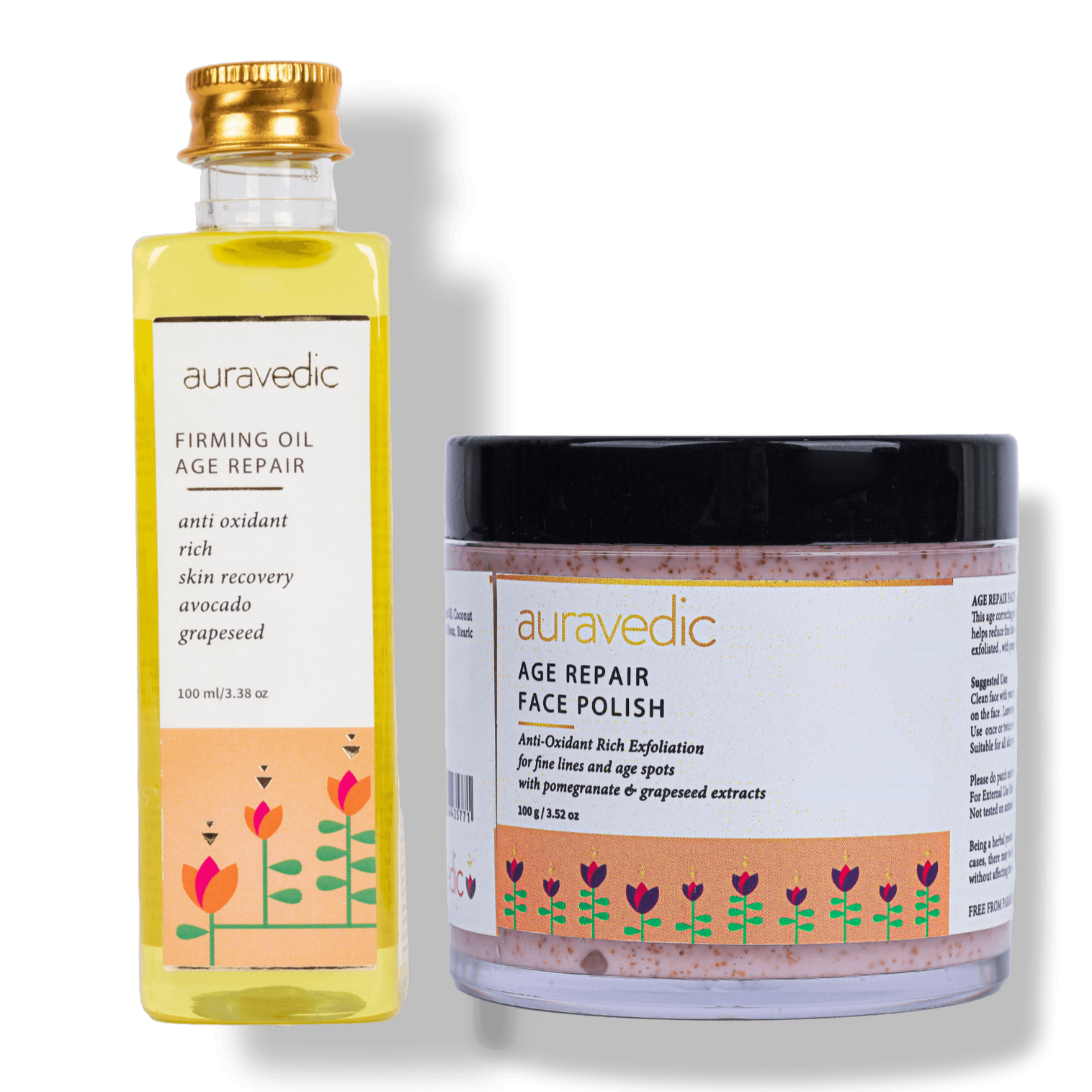 Daily –
Cleanse face as usual.

Gently Massage the Firming Face Oil on face and neck area.

Leave on overnight to soak into the skin.

Can be used in the day as well.

Once or Twice a Week –
Cleanse face as usual and wet it.

Take a scoop of the Age Repair Polish and lightly scrub on moist face and neck for 3 to4 minutes.

Leave on for 15 minutes.

Use a toner.

Wash off with plain water.

Do not use soap or face wash for atleast 2 hours.

TIP-
Always start regime on a clean face.

Do not use a face wash or cleanser for at least 2 to 3 hours after completing the regime.

Our products are formulated using natural extracts of herbs and oils. There may be a possibility that your skin may have sensitivity to one or more out of them. So please read the ingredient list carefully. We also recommend a patch test before use.


DISCLAIMER
1. In case of any sensitivity please consult a doctor.
2. Being a herbal product there might be a variation in colour of item due to seasonal ingredient changes.
3.All images shown are for illustration purposes only, actual results may vary.
4. For external use only. Store with the lid closed  in a cool & dry place..
MARKETED BY
3RD FLOOR, 301, ANMOL BUILDING,
47 GAOTHAN ROAD, JUHU, Mumbai City,
Maharashtra, 400049
MANUFACTURER DETAILS
ORGANOVEDICS
6/587-4, VIMAL VIHAR,
Venketeswarapuram Colony, Palakkad - 678001
Kerala, South India
MANUFACTURER DETAILS
GAYATRI HERBALS PVT. LTD.
Plot No. 6, Gut No. 251 (Part),
Genesis Industrial Township, Phase 3,
Village Kolgaon,
Tal & Dist. Palghar - 401404 MH
BEST BEFORE
24 months from the date of manufacturing
NODAL OFFICER DETAIL
auravedicteam@gmail.com
This product is rated 5.0 of 5.0 stars.
It has received 14 reviews.
Best Selling
View all
Save 11%
Save 16%
Save 11%
Save 8%
Sold out
Sold out
Our Promise

Hand Crafted With Love
Each product is handcrafted, mixed, and packed by hand; there are no machine perfections; instead, each product is crafted with of love.

Authentic Ayurveda
Every Ayurvedic ingredient we use is sourced from the such an area where it is known to be for the most supreme quality.

No Harmful Chemicals
We are persistent in our work, and we make sure to use ingredients and packaging that reduce our environmental impact.

Cruelty-Free
We are 100% natural, use sustainable practices, and are against any animal testing on our products.

Proven Results
Our motive is to provide you with superior results organically, and for that, we use plant extracts, which are very effective and sourced sustainably.

100% Purity Guaranteed
Our identity is purity. From the sourcing of products to the finish, we use the purest, ethically chosen ingredients.