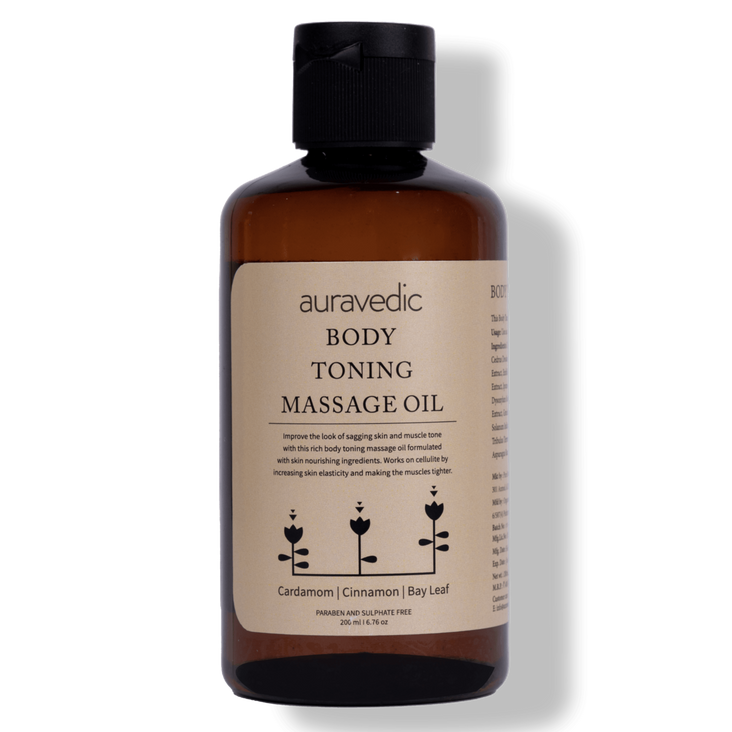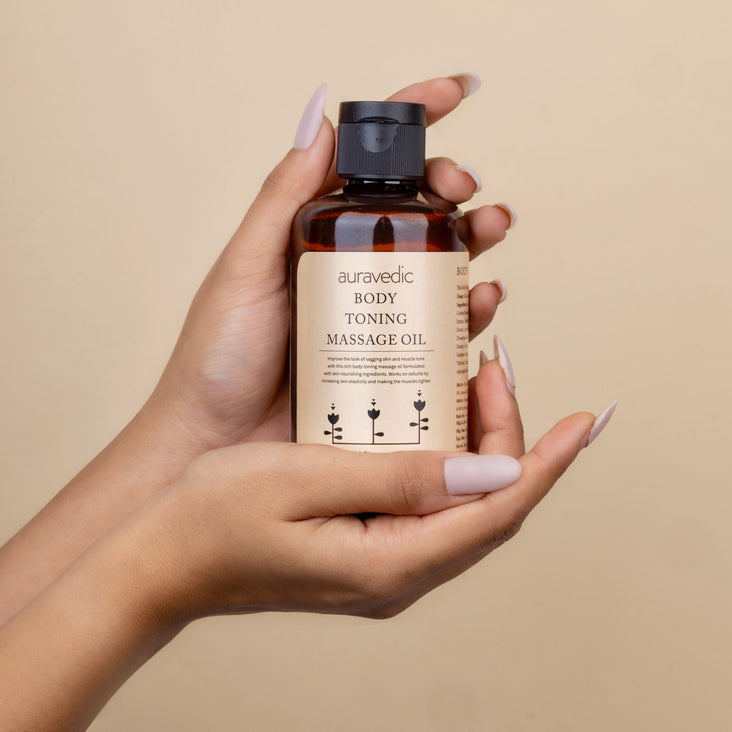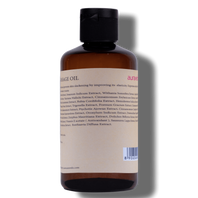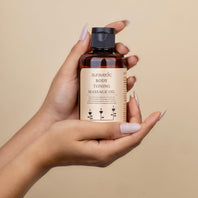 Body Toning Massage Oil
Improves Blood Circulation and Fades Stretch Marks
This Body Toning Massage Oil is made of natural ingredients like Cardamon Oil, Cinnamon Oil, and Bay Leaf. It targets the accumulated cellulite on the body and helps in eliminating all the toxins in the skin.

On its application, the blood flow in the body increases which helps in giving a healthy and more refined appearance to the skin. It also helps in toning the muscles and provides a refined texture.

The aroma of this Body Toning Massage Oil is pleasant and doesn't cause any irritation on its application, It suits every skin type well.

Coconut Oil, Glycyrrhiza Glabra Extract , Sesamum Indicum Extract, Withania Somnifera Extract, Aquilaria Agallocha Extract, Cedrus Deodara Extract, Acorus Calamus Extract, Valeriana Wallichi Extract, Cinnamomum Zeylanicum Extract, Anethum Gravelolens Extract, Embilica Officinalel Extract, Malaxiz Acuminata Extract, Rubia Cordifolia Extract, Hemidesmus Indicus Extract, Acacia Catechu Extract, Ipomoea Paniculata Extract, Plantago Ovata Extract, Trigonella Extract
Foenum Gracium Extract, Cinnamomum Tamala Extract, Dysoxylum Malabaricum Extract, Elettaria, Cardamomum Extract, Ptychotis Ajowan Extract, Cinnamomum Camphora Oil, Aegle Marmelos Extract, Gmelina Arborea Extract, Stereospermuni Suavaeolens Extract, Oroxylum Indicum Extract, Desmodium Gangeticum Extract, Solanum Indicum Extract, Pseudarthria Viscida Extract, Zizyphus Mauritiana Extract, Dolichos Biflorus Extract, Hordeum Vulgare Extract, Tribulus Terrestris Extract, Sida Rhombifolia Extract,
Vitamin E acetate ( Antioxidant ),Saussurea Lappa Extract, Terminalia Chebula Extract, Asparagus, Racemosus Extract, Terminalia Celeriac Extract, Boerhaavia Diffusa Extract, Propyl Paraben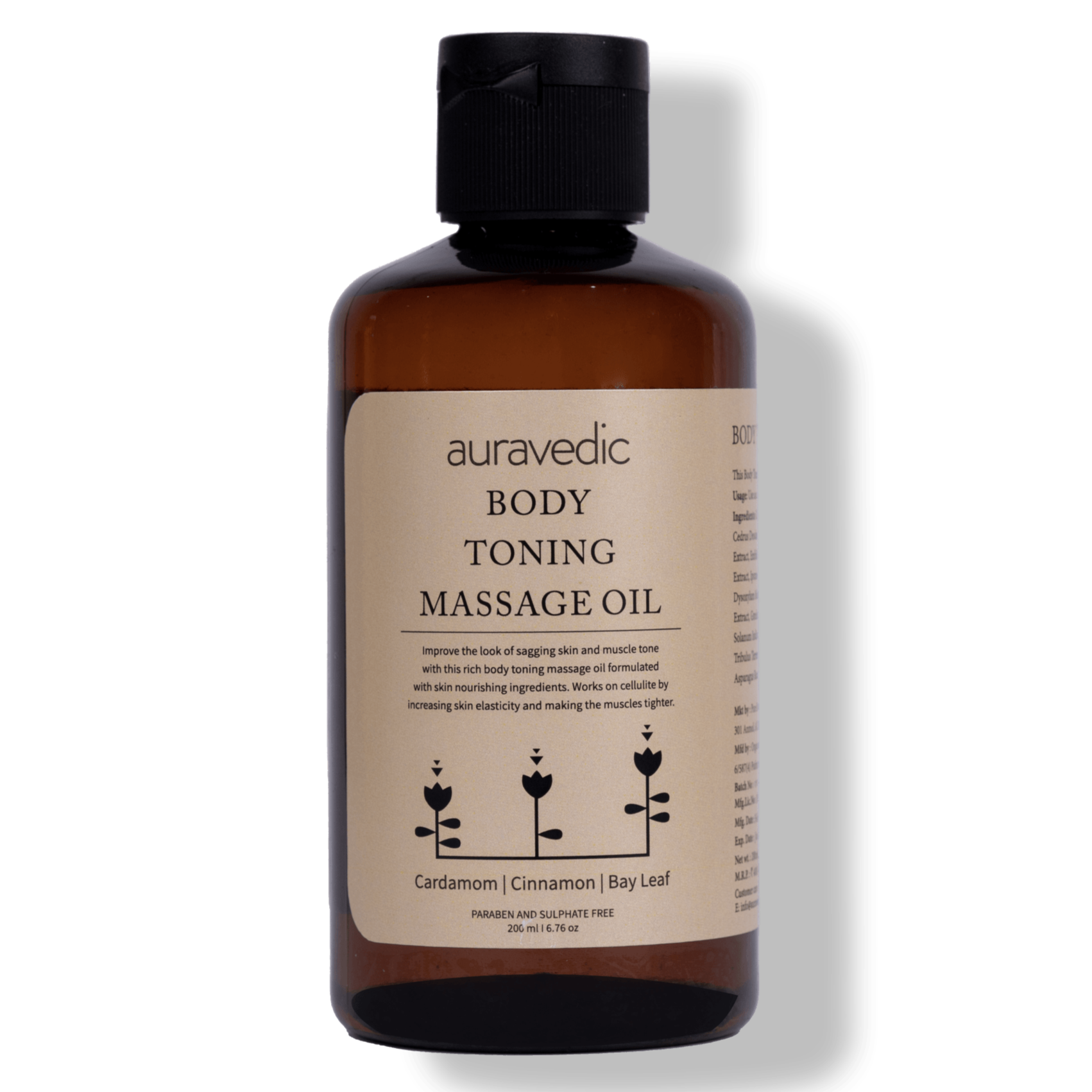 Massage the Body Toning OIl before a shower.
Pay attention to loose skin, cellulite and stretch marks if any.
Shower 15 to 20 minutes after the massage. Use regularly for maximum benefits.
DISCLAIMER
1. In case of any sensitivity please consult a doctor.
2. Being a herbal product there might be a variation in colour of item due to seasonal ingredient changes.
3.All images shown are for illustration purposes only, actual results may vary.
4. For external use only. Store with the lid closed  in a cool & dry place..
MARKETED BY
3RD FLOOR, 301, ANMOL BUILDING,
47 GAOTHAN ROAD, JUHU, Mumbai City,
Maharashtra, 400049
MANUFACTURER DETAILS
ORGANOVEDICS
6/587-4, VIMAL VIHAR,
Venketeswarapuram Colony, Palakkad - 678001
Kerala, South India
MANUFACTURER DETAILS
GAYATRI HERBALS PVT. LTD.
Plot No. 6, Gut No. 251 (Part),
Genesis Industrial Township, Phase 3,
Village Kolgaon,
Tal & Dist. Palghar - 401404 MH
BEST BEFORE
24 months from the date of manufacturing
NODAL OFFICER DETAIL
auravedicteam@gmail.com
This product is rated 5.0 of 5.0 stars.
It has received 6 reviews.
Best Selling
View all
Save 11%
Save 15%
Save 9%
Save 9%
Sold out
Sold out
Our Promise

Hand Crafted With Love
Each product is handcrafted, mixed, and packed by hand; there are no machine perfections; instead, each product is crafted with of love.

Authentic Ayurveda
Every Ayurvedic ingredient we use is sourced from the such an area where it is known to be for the most supreme quality.

No Harmful Chemicals
We are persistent in our work, and we make sure to use ingredients and packaging that reduce our environmental impact.

Cruelty-Free
We are 100% natural, use sustainable practices, and are against any animal testing on our products.

Proven Results
Our motive is to provide you with superior results organically, and for that, we use plant extracts, which are very effective and sourced sustainably.

100% Purity Guaranteed
Our identity is purity. From the sourcing of products to the finish, we use the purest, ethically chosen ingredients.