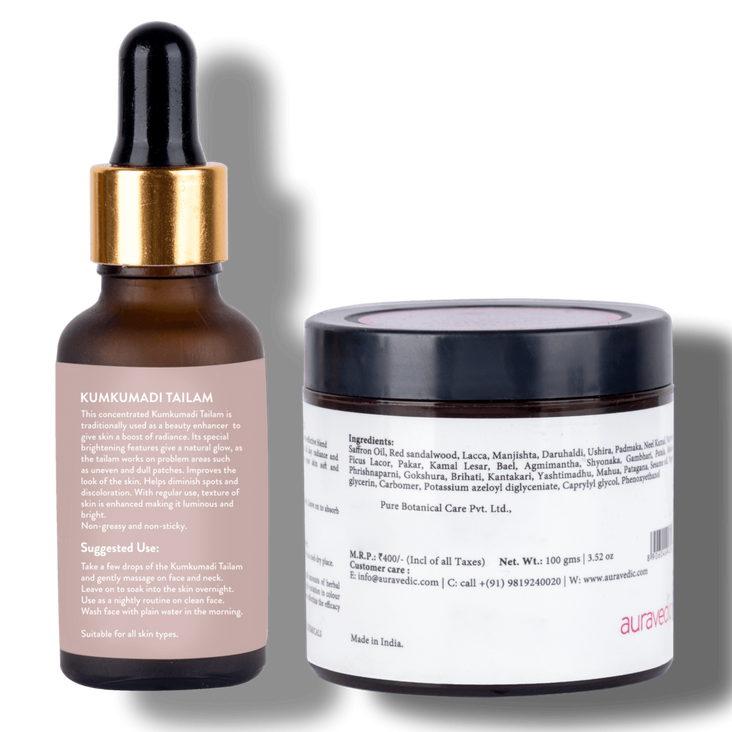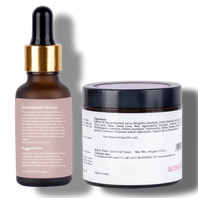 Kumkumadi Tailam Glow Set
Reduces Hyperpigmentation and Dark Spots
A combo set of Ayurvedic Kumkumadi Tailam for the face and Kumkumadi Skin Brightening Gel is perfect to have glow and radiance. These are unisex products that work on female as well as a little thicker male skin.

Both the products once introduced into the daily skincare routine can help in diminishing hyperpigmentation and dark spots in space. These products are enriched with essential oils and natural herbs like Padmaka, Saffron Oil, and wild Turmeric oil.

With continuous use, you can enhance the radiance and glow of your face. The best Kumkumadi oil filled with Kesar heals the dull and unlively skin. The Kumkumadi skin brightening gel hydrate and plump the skin giving that young and fresh look to the face. The anti-oxidants present in the gel help to keep skin healthy and bright.

Acne & Blemishes, Dark Spots, Dry Skin
Kumkumadi Tailam - Kesar, Lal chandan, Lac, Manjistha, Daruhald, Ushira ,Padmaka, Neel kamal, Vat vriksha, Ficus lacor-pakar, Kamal kesar, Bael, Agnimantha, Shyonaka, Gambhari, Patala, Shalaparni, Prishnaparni, Gokshura ,Brihati, Kantakari, Yashtimadhu, Mahua
Pattanga, Sesame oil, Goat milk

Kumkumadi Brightening Gel - Saffron oil, Red sandalwood, Lacca, Manjishta, Daruhaldi, Ushira, Padmaka, Neel Kamal, Vat Vriksha, Ficus Lacor, Pakar, Kamal lesar, Bael, Agmimantha, Shyonaka, Gambhari, Patala, Shalaparni, Phrishnaparni, Gokshura, Brihati, Kantakari, Yashtimadhu, Mahua, Patagana, Sesame oil, Vegetable glycerin, Carbomer, Potassium azeloy diglyceniate, Capryly glycol, Phenoxyethanol
Morning: Cleanse your face. Apply the Kumkumadi Gel all over face and neck. Leave on. Use daily for best results and daytime radiance.
Night: Cleanse your face. Apply the Kumkumadi Cream all over face and neck and leave on. After 10 minutes gently massage the Kumkumadi Oil over the cream. Leave oil n to absorb overnight. Use daily for best results.

Tip: Always start your regime on a clean face. Do not use a face wash or cleanser for at least 2 to 3 hours after completing the regime.
DISCLAIMER
1. In case of any sensitivity please consult a doctor.
2. Being a herbal product there might be a variation in colour of item due to seasonal ingredient changes.
3.All images shown are for illustration purposes only, actual results may vary.
4. For external use only. Store with the lid closed  in a cool & dry place..
MARKETED BY
3RD FLOOR, 301, ANMOL BUILDING,
47 GAOTHAN ROAD, JUHU, Mumbai City,
Maharashtra, 400049
MANUFACTURER DETAILS
ORGANOVEDICS
6/587-4, VIMAL VIHAR,
Venketeswarapuram Colony, Palakkad - 678001
Kerala, South India
MANUFACTURER DETAILS
GAYATRI HERBALS PVT. LTD.
Plot No. 6, Gut No. 251 (Part),
Genesis Industrial Township, Phase 3,
Village Kolgaon,
Tal & Dist. Palghar - 401404 MH
BEST BEFORE
24 months from the date of manufacturing
NODAL OFFICER DETAIL
auravedicteam@gmail.com
This product has no reviews yet.
Best Selling
View all
Save 9%
Save 15%
Save 9%
Save 9%
Sold out
Sold out
Our Promise

Hand Crafted With Love
Each product is handcrafted, mixed, and packed by hand; there are no machine perfections; instead, each product is crafted with of love.

Authentic Ayurveda
Every Ayurvedic ingredient we use is sourced from the such an area where it is known to be for the most supreme quality.

No Harmful Chemicals
We are persistent in our work, and we make sure to use ingredients and packaging that reduce our environmental impact.

Cruelty-Free
We are 100% natural, use sustainable practices, and are against any animal testing on our products.

Proven Results
Our motive is to provide you with superior results organically, and for that, we use plant extracts, which are very effective and sourced sustainably.

100% Purity Guaranteed
Our identity is purity. From the sourcing of products to the finish, we use the purest, ethically chosen ingredients.