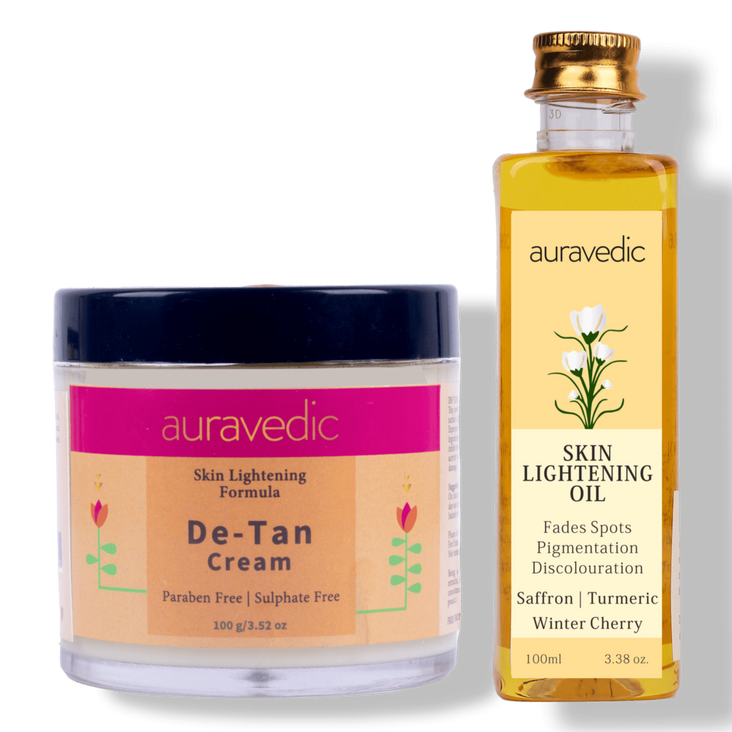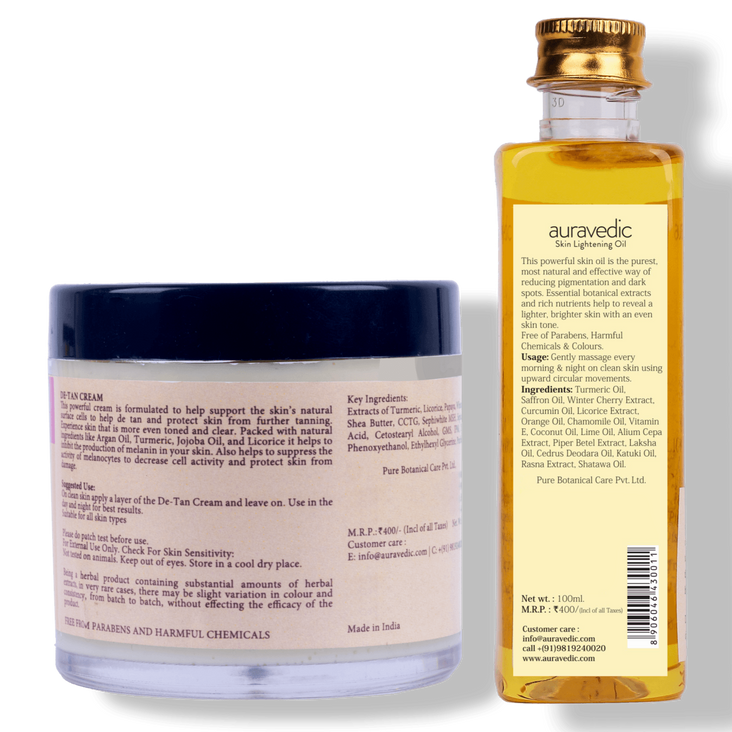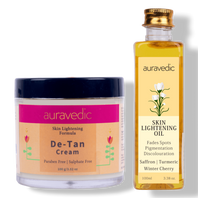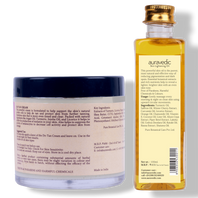 Anti -Tan Skin Care
Get back your natural skin tone without chemicals or bleach . Fight your sun tan  with powerful ingredients like Ashwagandha, Turmeric , Sandalwood and Saffron safely and effectively . 
The DeTan Cream is formulated so your sun tan can fade away and skin can become more even toned. It helps to reverse any damage caused by the Sun . Use it generously in the day and night on targetted areas.
The Skin Lightening Oil is a very effective oil to fade discoloration and uneven skin patches. It 's unique composition also keeps the skin protected from further damage due to sun exposure. Use daily at night all over for best results.
Dark Spots, Sun tan , Pigmentaton
Skin lightening oil - Turmeric Oil, Saffron Oil, Winter Cherry Extract, Curcumin Oil, Licorice Extract, Orange Oil, Chamomile Oil, Vitamin E, Coconut Oil, Lime Oil, Alium Cepa Extract, Piper Betel Extract, Laksha Oil, Cedrus Deodara Oil, Katuki Oil, Rasna Extract, Shatawa Oil.

De tan cream - Extracts of turmeric, Licorice, Papaya, Wheatgerm oil, Argan oil, Almond oil, Jojoba oil, Coconut oil, Shea butter, CCTG, Sephiwhite MSH, Sepicalm VG, Montanow -L, Simulgel EG, Glycerin, Stearic acid, Cetostearyl alcohol, GMS, IPM, Triethanolamine, Fragrance, BHT, Sodium benzoate, Phenoxyethanol, Ethylhexyl glycerine, Purified water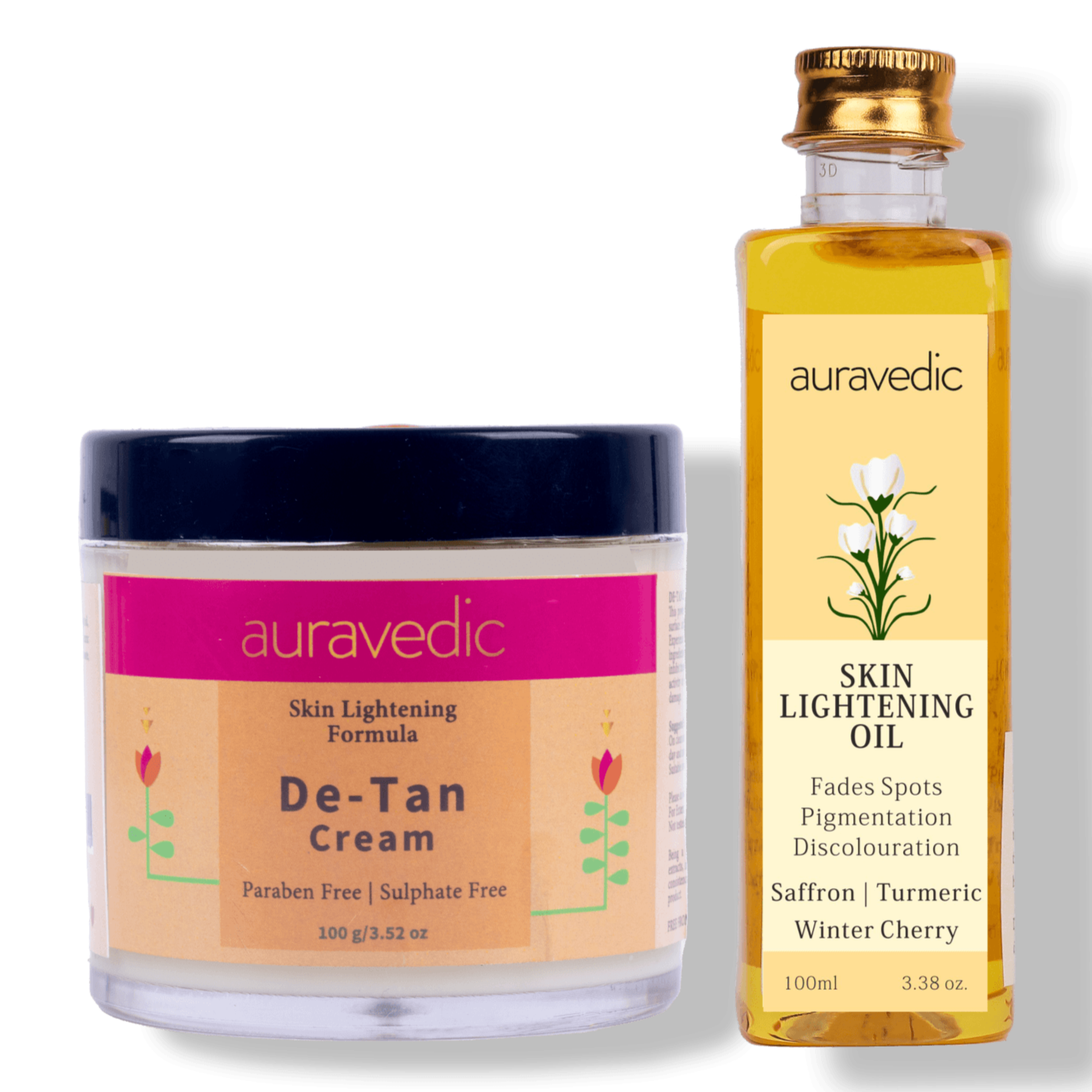 Morning and Night - Clean face and body if using all over .
Apply the DeTan cream on face , neck and other affected areas of the body like arms and legs. Leave on to absorb well . Use daily day and night.

At Night - Massage the skin lightening oil all over face, neck and affected areas of the body.
Leave on overnight . Wash with plain water next day in the morning.
TIP-
Always start regime on a clean face.

Do not use a face wash or cleanser for at least 2 to 3 hours after completing the regime.

Our products are formulated using natural extracts of herbs and oils. There may be a possibility that your skin may have sensitivity to one or more out of them. So please read the ingredient list carefully. We also recommend a patch test before use.

DISCLAIMER
1. In case of any sensitivity please consult a doctor.
2. Being a herbal product there might be a variation in colour of item due to seasonal ingredient changes.
3.All images shown are for illustration purposes only, actual results may vary.
4. For external use only. Store with the lid closed  in a cool & dry place..
MARKETED BY
3RD FLOOR, 301, ANMOL BUILDING,
47 GAOTHAN ROAD, JUHU, Mumbai City,
Maharashtra, 400049
MANUFACTURER DETAILS
ORGANOVEDICS
6/587-4, VIMAL VIHAR,
Venketeswarapuram Colony, Palakkad - 678001
Kerala, South India
MANUFACTURER DETAILS
GAYATRI HERBALS PVT. LTD.
Plot No. 6, Gut No. 251 (Part),
Genesis Industrial Township, Phase 3,
Village Kolgaon,
Tal & Dist. Palghar - 401404 MH
BEST BEFORE
24 months from the date of manufacturing
NODAL OFFICER DETAIL
auravedicteam@gmail.com
This product is rated 5.0 of 5.0 stars.
It has received 7 reviews.
Best Selling
View all
Save 11%
Save 15%
Save 9%
Save 9%
Sold out
Sold out
Our Promise

Hand Crafted With Love
Each product is handcrafted, mixed, and packed by hand; there are no machine perfections; instead, each product is crafted with of love.

Authentic Ayurveda
Every Ayurvedic ingredient we use is sourced from the such an area where it is known to be for the most supreme quality.

No Harmful Chemicals
We are persistent in our work, and we make sure to use ingredients and packaging that reduce our environmental impact.

Cruelty-Free
We are 100% natural, use sustainable practices, and are against any animal testing on our products.

Proven Results
Our motive is to provide you with superior results organically, and for that, we use plant extracts, which are very effective and sourced sustainably.

100% Purity Guaranteed
Our identity is purity. From the sourcing of products to the finish, we use the purest, ethically chosen ingredients.